To Whom it may concern,
I just wanted to make contact with you to provide some feedback, I attended the 2 services for Hannah De Groot Today and was so impressed with the professionalism of your staff. They were an absolute asset to your company. The Funeral Industry has always been something I have a passion for and always something I have felt drawn to. Every time I attend a funeral it brings back all of those thoughts. But Today watching the way everything was handled so well and so professionally by a Company that don't charge an absolute fortune I was completely mesmerized and if i'm honest probably in a little bit of a world of my own, wishing I was part of such an amazing company, certainly a company of high standing. Sorry for rambling on, but I just felt the need to commend your Staff. Blessings Angela Dahlmann
Dear Larry,
Mike, Jacob and I wanted to say "Thank you" for the way that you conducted our son, Sam's funeral today. The service was beautiful and you helped make the impossible task as easy as possible. On the most dreadful day of our lives you managed to bring a smile to our faces, and Sam was always a smiler and I think he would be smiling down on all of us. His 13 years on earth has given us more love than you can imagine and he will live on in our heart and memories. Once again thank you Larry.
Sarah, Mike and Jacob.
Hi Julie,
I just wanted to write an email to thank you and your team at Classic Funeral Services.
My mum's send off was lovely. We couldn't have hoped for better weather on the day and your team's care, attention to detail, professionalism and empathy was very much appreciated.
My family and I will have no hesitation in recommending you to other families that we know.
Thanks again.
Kind Regards, Suzy Romanjuk.
I just wanted to write to say thank you so much for all your support following the death of Robert Young. From our very first contact with Classic Funeral Services to your returning Robert to our care, Classic Funeral Services have been outstanding. You made sure that we were informed every step of the way, helped us to understand the next steps and made sure we could focus on all the people dealing with Robert's death
I cannot recommend Classic Funeral Services highly enough
Thank you again
Mick
Benn,
Thank you so much for yesterday.
You did such an amazing job, I loved how you personalized your speech after seeing the photo slide show, that meant a lot to my family and I. I will highly recommend you to everyone I know, thank
you so much, you really made the day stress free and there where many laughs on such a hard day.
Thanks Kim
Hi there,
Just wanted to send you a huge thank you for all that you did. You made the entire process prior to and on the day very stress free and I cannot recommend you highly enough
Again, thank you so much for all that you did.
Kindest regards,
Susan (Cramer Family)
We would like to thank all your staff for the way you conducted our mother June Don's funeral today. It was done in a very caring and professional way. It was hard for us to suggest the number of people for catering on a day like this and we welcomed your suggestion that you could supply more food at short notice. Thank you for your efficiency. The Order of Service was exactly what we wanted and completed very well. The flowers on the coffin were beautiful and the suggestion that people take a flower when they left was appreciated. Once again thank you
From Sylvia Don, Valerie Guthrie and Alan Don
I want to thank you from the bottom of my heart for your wonderful service for my Mum, Rosemary whom we laid to rest 11 Jan 2017.
The unenviable position I was in was eased by your wonderful staff. Thank you Adam for your kindness, advice and support.
Larry, you made everything perfect at the service. Including my children so warmly and openly made them comfortable whilst saying goodbye to their Nan. The poem you chose for me was perfect and helped me in ways you will never know. Thank you.
Finally the gentlemen who stood by silently with such respect, you were a comfort. I wish I could remember your names, but in particular the gentleman who placed the remaining flowers in Mum's grave and bowed.. that small sign of respect meant so much. _ Suzanne and Family.
G'day Larry;
On behalf of my children , Chris & Annalise , and Lainies mum, Doreen, I would like to thank you & your team
at Classic for the unwavering support you gave us during the planning of our beloved Lainies service.
I really appreciated the care & comfort you personally gave us, as nothing was too difficult for you to do for us,
including many, many late night texts & calls wanting to change this & fix that etc, etc. Many of the guests commented on how the service was just like Lainie; Dignified, classy, elegant & to the point.
The release of the 57 balloons after the service was one of those little details you suggested that resonated with all who attended.
Lainies mum, Doreen was so impressed by your attention to detail that she has asked me to call you & Classic to send her off in the same manner. (High praise , indeed!! ) So ,in closing , I'd like to thank you, Larry, for making a difficult time easier to bear.
Warmest Regards, Ernie Tritapepe
Hi Julie and the team at Classic Funeral Services,
Karen and I wanted to pass our our thanks and gratitude. We are so happy that we chose Classic Funeral Services for Mum's day. You presented the chapel beautifully and it was a sensitive and compassionate commemoration of her life.
Thank you for recommending Tina to us, she delivered a beautiful eulogy and was absolutely the right person for Mum.
Thank you also for your work in producing the DVD, printing, the flowers, the presentation of the Chapel and your warmth and caring in helping us through such a difficult day.
Regards _ Colleen & Karen
Just want to say a big thankyou to all involved in cremating our son Lachlan calling you guys to make enquiries was the easiest and turns out the best phone call we have had to make since losing our sweet little boy you came to us to pick him up and dropped him back once he was ready we can't thankyou enough for making such a hard time that much more better with your respect and understanding and compassion, whilst we chose not to hold a service for our son we thankyou deeply for everything you have done for us and our family Penny, Colin and all Lachlan's siblings
Hi Larry, I'd like to extend a heartfelt thanks to you and the staff of Classic funerals for making Sonia's farewell so special!!! Numerous attendees commented that it was the nicest service that they had been too. The floral arrangement was spectacular and all the special touches you added (from the butterflies on the sand buckets to the butterfly decals on the wishing well and the butterfly carved candle holder), which were so carefully chosen to tie in with the tone and theme of the service, did not go unnoticed. Moreover, the staff on the day were professional yet friendly and accommodated our every request; nothing was too hard. We are extremely grateful. Please pass on our gratitude to all involved, including Jarna. On a personal note, you did a brilliant job on the day Larry!!! You spoke so warmly of Sonia and captured her personality so well; it felt like you actually knew and cared for her. It's been a real pleasure working with you Larry and we'll be sure to recommend Classic funerals.
Warm Regards _ Santina
Dear Larry, I write to you to express my deepest appreciation for the outstanding service you provided on day of my sister's funeral, Sonia Granvillani. I was deeply moved by your comforting and professional approach in portraying Sonia as the beautiful and caring person she was. You delivered the service with grace, warmth and profound empathy. Your reflection and demonstration to acquaint and engage with Sonia on a personal level was above and beyond your call of duty and I sincerely thank you and your two warm hearted assistants for a beautiful and memorable service.
If you are looking for that personal touch choose Classic Funeral Services as I highly recommend them. Kind Regards, Suzi Granvillani
Hi - I just wanted to commend Julie & staff and your company on a wonderful job she did on Tuesday for my mothers funeral.
Everything was done how I wanted it and Julie was extremely well organised and very professional and helpful at a difficult time.
Thanks again - Joanne Prest
To all the lovely funeral people,
My family and I were charmed and so pleased with the service you offered Rob. Everything went so smoothly, with a nice attention to detail. Thank you all. _ Rae Last
Dear Fiona, I just want to say a big Thank You for everything you did for our family regarding the passing of Ian. From the minute you walked in my front door, I knew we were in good hands. Your caring and understanding of people at such a sad time in their lives is wonderful. Ian has left a huge void in our lives, but you made the day a bit easier to handle. I've had the pleasure in meeting a lovely person. Kindest Regards, Joyce
Hi Julie, I just wanted to touch base and say thank you so much for your efforts and conduct yesterday. Everybody told me what a great service it was, simple but with class and coming for the Italian community where they tend to do things in a big way, please take this as a very big compliment. From my perspective everything we wanted was carried out. I'm not sure if I told you this, however we contacted Classic funerals through someone who referred you to us. Frank, Maree and I will do the same if we get asked, and we will reference you Julie personally.
Again, thankyou so much. Regards Tony
I first contacted Classic Funerals from my home in Southern NSW on Friday the 3rd of February. Adam called me back immediately and I explained my dilemma being so far away and my elderly Aunt being in very poor health in a nursing home in Ringwood.
I asked for the paperwork to be sent to me as I needed to get something in place for her. I sent back the forms and was told not to worry about anything, Classic would take over from there. My Aunt sadly passed away at 8.45pm on Sunday night and Classic were there within an hour despite the appalling weather in Melbourne that night. Larry visited my mum and sister on Monday and plans were made for the service to take place on Friday at Lilydale. We were only 14 in number but the service was beautiful. Our Piper Ross Bates was excellent and sent our little Scottish lady off in style. Our Celebrant Larry spoke as if he knew our Aunt and made it very personal for all of us. Stewart was kind and caring as well and he gave us a DVD of the service as Mum's brother in Brisbane was too ill to travel to his sisters funeral. We had not thought of this. Thank you. Also thank you for the flowers . They were amazing and have gone to Regis for the staff and residents to enjoy. Thankyou for making a sad and difficult time so much more bearable. No high pressure just genuine and very affordable compassion. _ Anne, Mary and Jean.
Hi there at Classic Funerals,
Just wanted to drop you a line to tell you how glad I was that I chose your company for my father-in-laws funeral on the 12th August 2016.
Firstly, after taking on the task of the funeral planning I did what most people do in this modern times of technology.
I jumped online and looked at reviews of other companys. Somehow I was drawn towards yours as John had always said he wanted no fancy big affair. Although it was a small congregation it was just as impressive even if the crowds had been much larger.
I?ve been involved in helping with three funerals over the past three years. Two with the more well known larger companies. They cost so much more than your company. Your company is very professional, very accommodating and very easy to work with when at a difficult time in our lives. You had everything needed for a graceful tribute to Johns life. All in all I am so pleased with the way the whole team handled everything. From retrieving our Dad from the hospital, to preparing him for the viewing. Plus the DVD you put together with the photos, the music Id chosen that you were able to find and play during the service. The layout and presentation of the funeral order of service brochure.
Also, organising Johns cremation and having the ashes placed into the urn we had chosen. We had decided on the eco casket, and it looked just beautiful sitting in the Bunurong Cirrus chapel. The room was bright and modern and the casket with its silver handles and native flower arrangement looked lovely. Dennis the Celebrant was a lovely man whom I had had a few telephone conversations with and he was very pleasant to work with. He was very accommodating in regard to a last minute edition into the eulogy. He has a fantastic soothing voice and spoke so well with pause and grace.
To sum up the whole day. Wonderful. Kind regards, Deb Marton, on behalf of the Marton family.
Hi Dennis
My family and I would like to thank you for the beautiful service you held yesterday.
We appreciate it very much, even with the heavy emotion of the day it was lovely.
Thanks again
Tess
We just wanted to say thank you so much to you and Stewart for the excellent, friendly service you provided. You made it so easy and kept us updated the whole way which was very reassuring. We appreciated being able to contact you over the weekend, and making the arrangements online was simple and convenient.
Thank you very much,
Fiona
Hi Dennis,
Thank you for doing the eulogy today for John (senior) You spoke very well and we were all so very pleased with it all.
Kind regards,
Deb, John and family
I would like to extend my sincerest thanks to all of you who helped make our baby niece's funeral the special day that it was. Out of tremendous sadness and deep suffering came the most wonderful support and understanding. Adam, you were so sympathetic and helpful from the start and Julie, how can we thank you for your empathy, guidance and patience, enabling a precious little girl's mother, the time and space to come to grips with what was needed of her. The service was truly beautiful, and reflected the innocence and purity of a little child. Please thank all others involved. We will be forever grateful.
_ Terri
I would like to take this opportunity to thank all the staff at CLASSIC FUNERAL SERVICES for their professionalism and respectful and helpful service. Our Grandmother Emily had selected your funeral service some years ago, we think having seen an advert on the TV, and true to her wishes we arranged for her cremation with your assistance.
From our first call to Adam, receiving documents online from Jarna and finally her homecoming when Stewart drove her home to us, all our dealings with you have been so very straightforward, dignified and respectful.
We do not know what it was about you that attracted Nan to your company but we are so glad she had already made this decision as it made this very difficult time just that little bit easier. We would sincerely recommend your funeral services to all. While very cost conscious there was no falling away in service, assistance or in any other aspect.
Thank you all again. I hope you can continue to help other families and leave them with the same peace of mind, especially those concerned to have a cost conscious but dignified send off for their loved ones.
Jenni and the ELAND Family
Just a quick email to thank you for the wonderful service your company gave us after the passing of my husband on 12th July and his service on 19th July. Your staff were wonderful to myself and my daughter at this stressful time. We were very well cared for by Julie who did all the planning, and Tina who was the celebrant. Both these girls were so lovely to us throughout the whole process. The staff on the day made it so easy for us, and were very respectful, and everything went like clockwork. The coffin was beautiful, as were the flowers. We could not have hoped for anything better, and I wouldn't hesitate to recommend your company to anyone who wants a perfect funeral.
Thank you so much.
Susan Owen and family.
Hi Larry
I want to thank you and Classic Funerals for the amazing help you provided to our family in arranging my son Alisdairs funeral. It is something a mother never expects to have to do.
My other son Andrew and I really appreciated the time, ideas, understanding and attention to detail that you provided.  I cant thank you enough for your patience and your availability at all hours and on a weekend.
The service was beautiful and so many people commented on the easy going friendliness of the celebration of Alisdairs life.
Dear Benn,
Thank you so much for your support in making the funeral service for our father such a beautiful day.  The service you preformed for us was so caring you listened to what we wanted to say and captured my dad's amazing life . 
Everyone who attended the service was impressed by you as well, We received many comments about what a wonderful service it was. 
The service was healing and allowed everyone to remember all good times we all had with dad and how much he was always a happy man.
We really appreciated your calm and sincere guidance and support our heartfelt Thanks.   
Karen Thompson and Family 
I would like to thank you and your whole team for the excellent execution of services carried out for my dad Andrew?s cremation service.
I am singing high praises of the compassionate, professional and friendly group of people you have at hand.
From my initial phone conversations with Adam, who was very understanding and consoling on the day dad passed away;
Jason, who transported dad from Tatura to Melbourne was a lovely compassionate man; The meeting with Julie to organise the funeral went very smooth, she was very informative and attentive; And Benn Stone, what a lovely man for us to have offer the eulogy on behalf of dad and our family, he spoke with compassion and love and respect; The flowers were absolutely gorgeous, from the coffin arrangement of white yellow and orange, the tribute roses and the button hole corsage, perfect in our yellow theme for dad; The service at Springvale: brilliant. Music, lighting it was all in perfect alignment. The only thing I can fault is the rain that came down on us as we followed the hearse on its way to the crematorium, but that of no fault of yours, Im sure if you could of changed it, you would have.
I would and am highly recommending your Classis Funeral Service to others. 
Kind regards
Deborah Harris on behalf of all the Jolme family

My mother recently passed away after a long battle with a terminal illness. I had the opportunity, which i know many won't have, of being able to prepare for mums funeral and phone around to compare services and price etc. After my first phone call of enquiry to Jana, i felt very happy with the fixed fee and what was included - you never really know if there would be something missing that you would be charged for at a later time but Jana was very reassuring that everything that needed to be included, was. After i made some comparison calls, i was quite delighted at what was provided for the price. Having given the go ahead to Classic to organise everything, i just felt so happy and relieved that there was nothing i needed to do or worry about. Our celebrant Carol, who Jana had organised, was just a delight and just ran everything so wonderfully. Many people at mums memorial commented on how lovely, appropriate and personal the service was and the care they took with all of us on the day - well, I just couldn't have asked for anything more. I just don't see how some other companies i spoke to could charge as much as they were for the same service. I truly couldn't recommend them enough to anyone. Thank you so very much Jana, Carol and Adam.
Hi Jarna and Carol, 
Jared and I wanted to thank you both so much for the treatment you gave to us and Jack over the past week and to let you know that yesterday afternoons farewell to Jack was perfect. 
In what has been the toughest week of our life we are so grateful for the sensitivity you gave to us during such a difficult time.
We really were blown away by how beautiful Jack looked, just like a little angel, it was an amazing moment.
Carol you were fantastic from the moment you walked in to meet us and we thank you for the conversations you had with mum and for giving us the extra time that we needed to make the decision. 
Jarna you are brilliant, I guess our biggest concern was that Jack wasnt going to look well and also how difficult it was going to be to see a little white casket. But what you did to not only Jack but also give him the true blue Aussie send off was what dreams are made of.
The Australian flags, the boxing kangaroo and the southern cross as well as the green and gold floral arrangement, roses, butterflies and added extras to Jacks casket were all above and beyond our expectations.
A Classic Angel Funeral is something that as a couple we never wanted to have to endure but it was the two of you and your team that gave it the individual person touch, giving respect and dignity to our nine month old son and to our family.  
Yesterday when we farewelled our little man Jack was a very special moment for us and we want to thank the entire team at Classic Funeral Services from the bottom of our hearts for making the hardest day of our life so memorable.
Thanks again, take care
Kind Regards
Brooke and Jared Clarke
Brooke Hanson OAM
Olympic Gold & Silver
Carol, Jarna and Classic were magnificent at Brody's funeral. I expect you were even more helpful at the interment. Congratulations. Bob Maguire.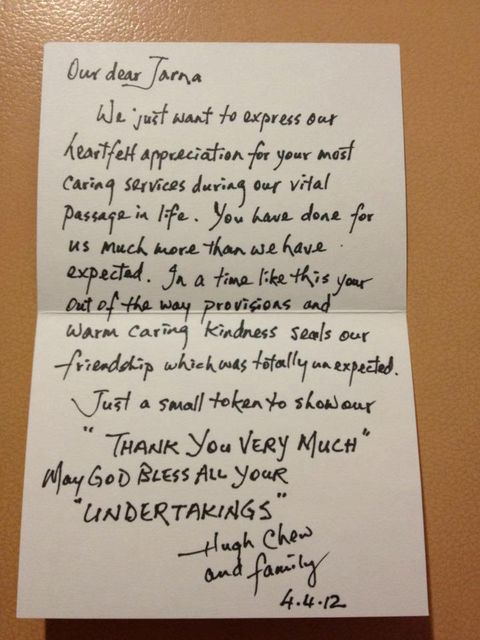 Hello Lisa, I would like to send you my warmest thanks for the lovely account of my late mother's life you gave yesterday. The staff were extremely nice people who obviously cared about the job they were doing, making everyone feel at ease. On an occasion such as this it is very comforting to have caring people such as yourself on hand to make everything flow smoothly. 
Thanks again,
Judy & Ken
Just wanted to thank you again for your help organising the funeral. I received numerous positive comments yesterday on the service. I will have no hesitation recommending yourself and Classic Funerals if the opportunity arises
Thanks Again, Much appreciated, Alex
Hello all at classic funerals. The family of Veronica wish to thank 
you for an outstanding service today at Preston Cemetery, even the 
weather was kind to us. Thank you again.
William Allan on behalf of all. God Bless You.
To all staff  We wish to thank you for the wonderful funeral you arranged for my mother Patricia Lillian Neck
We could not have wished for more - 
Thank you again - 
Patricia's Family - Per: Elliot Neck
Hi Classic, just a quick note to say thank you for the wonderful service you and your team put together yesterday to farewell our, father Brian Hughes. You made the whole process so easy to deal with.
Thank you once again - 
Suzanne, Shaun, Katrin and Kirsten
Hi Jarna, 
just a quick note to say thank you for the wonderful service you and your team put together yesterday to farewell our, father Brian Hughes. You made the whole process so easy to deal with. 
Thank you once again - 
Suzanne, Shaun, Katrin and Kirsten
Dear Jarna, 
Thank you for the professional and considerate manner in which you and your staff organised mums funeral. All our varied requirements were met by you and it was clear that nothing was too much trouble. Mum was extremely well presented and viewing her was a comfort to us. Thank you for the extra flowers for the family remembrance in the service and your generosity with your time while we served refreshments. I appreciated your understanding of what we wanted at the crematorium chapel, and at short notice arranging for us to accompany mum to the crematoria. My feeling about the funeral is that we honoured mum in the way we wanted to do it and your assistance in that was greatly appreciated. 
Yours faithfully, 
Howard - (Revd Howard Langmead)
Hi Larry, On behalf of myself and my family I would like to thank and Jarna for the lovely service you provided for our dad it was most appreciated the extra little but memorable touches that where added which made it very special to us. Thank you from Debbie & Daryll, Robert Margaret & Family
Hello John, Joy and Team, My wife Jenny and I would like to thank you all sincerely for the great service provided. From the first contact, to the very end at the cemetery, we were impressed with all the little extras that we noticed being done and with the way they were being done, discreetly and with no fanfare.Thanking you, Simon and Jenny Shaw.
Dear Carol, Our family would like to thank you for assisting us with the funeral arrangements for our baby Mia Grace. 

When we started looking for a funeral director we felt the task to be daunting. We have no idea on the process and our only resource was the internet.  We also want to give the best for our baby but at the same time cost is also a concern for us. 

We are very happy to find Classic Funeral Services with its more affordable prices compared with others, and even became happier when you came to our house Carol. When we met you we got the feeling that our baby Mia will be taken care well and with respect. You are so efficient, so calm and compassionate and it truly gave us peace of minds. 

The arrangements in the chapel and the ceremony were faultless and just the way we like it. It was very solemn and very memorable for us. 

I would also like to thank Jarna for taking care of our baby Mia. Baby Mia looked so pretty and we were so happy to see her so peaceful on that day.  Thank you Jarna. 

Thanks to Joe as well for assisting during the ceremony. We did not get to say thank you in person but my husband and I were very thankful to you as well. 

Your team at the Classic Funeral Services are great, thank you for giving us the best service. We cannot ask for more.
Kind regards, 

Carlos, Sonia, Victoria, Beatrice, Mia.
Hi Larry, 
On behalf of my family, I would like to thank you so very much for a very touching and special farewell to my Dad.  Your compassion and care with what you said was greatly appreciated as well as the lovely poems you included in the service.  It was exactly what Dad wanted and we can now move on knowing that he is no longer suffering and in pain. 
After doing some research on a number of funeral providers I chose Classic Funerals for my brothers service. I knew immediately on first point of contact with Jarna at Classic Funerals that I had made the right decision as she maintained a professional approach, was extremely sensitive to our families needs and caring every step of the way. Jarna also organized the celebrant Carol Shepherd who guided the service, Carol in her presentation provided an outstanding service.
Some of the comments from people attending were as follows:
What a beautiful dignified funeral Sad but very well done
Very professional Very well organized Beautiful memorial cards
Loved the photo display Lovely memories Perfect service
On behalf of my family I would like to say a sincere thank you to both you Jarna and Carol who have showed so much kindness, warmth and comfort to us during this very sad time. We are ever so grateful and I would have no hesitation in recommending Classic Funerals for a high standard funeral service. Kind Regards, Jeanise Brown